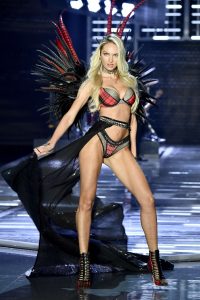 Yesterday saw the Victoria's Secret 2018 Fashion Show play out in New York at Pier 94. Unless you've been living under a rock, you'll know that it's a much-anticipated global event that in recent times has been held in Shanghai, London, Miami and Los Angeles.
The models who walk for Victoria's Secret are widely acknowledged to be the cream of the industry; they are also some of the most vilified women on the planet. Why? For having the temerity to be some of the most beautiful.
This morning I caught an item on breakfast television about body image that used the VS show as a peg. Engaged in the debate were two equally gorgeous and slender women; one for and one against the continued use of stereotypical pin-thin models for this kind of production. The piece also featured two attractive and much curvier women, gussied up to look like VS 'Angels': ie, wearing incredibly sexy lingerie, skyscraper heels and expansive feather wings.
They looked great; smokin' hot, in fact. But should they have walked the runway in New York yesterday, in line with the Hadid sisters, Megan Williams, Candice Swanepoel, Ella Hosk and veteran Angel, Adriana Lima? Well, no – not in my opinion. Clothes simply lay better on very slender women. It's not fair, but it is so and trying to shoehorn bigger 'normal' women into these garments does not present them at their very glamourous best.
Unrelated to VS but pertinent to the wider debate, I saw a post on Twitter this morning. It was from a sportswear brand that has recently branched into Shape-Wear; or for the uninitiated, stretchy underwear that sucks everything in and smooths everything out. In the photograph, it looked so pretty, that I found myself clicking the link to check it out. But OMG; the vitriol that this promo inspired was off the hook! Hundreds of tweets, many peppered with expletives, attacking the brand for its misogyny and fat-shaming. Calm down, peeps; it's just a big pair of drawers. If you don't like them, don't buy them. Simple as.
Because here's the thing: being offended by the way the fashion industry represents women is utterly pointless. It is what it is. Woman of all shapes, sizes, ages, cultures and colours can be (and are) beautiful, but VS is not just selling frilly bras and pants; above all, it's selling fantasy. And to most people, the ethereal creatures that stalk the catwalk are exactly that.
Personally, I don't want to see normal, bigger, human women representing VS. Should I be offended because I'm in my late fifties and the oldest woman on the runway was Adriana Lima, walking for the last time, at age 37? I am not offended, and neither should you be.
I'm appalled by so many aspects of modern living – we live in an imperfect world – but skinny models with long legs, shiny hair and great teeth isn't one of them.