It's been a while since I posted anything here on my blog. No one close to me will be surprised. Being diagnosed with breast cancer in January saw to it that my concentration got zapped and my (already limited) attention span reduced. So between hospital appointments, waiting for news, having surgery and whole days lost to a flat grey fatigue, writing anything has taken a back bench.
Reading, on the other hand, has proved a welcome and comforting distraction, and my kindle has never been further than arm's length since Christmas. So here's a small collection of the books that have kept me company, or are right at the top of my #TBR list.
The Other Passenger by Louise Candlish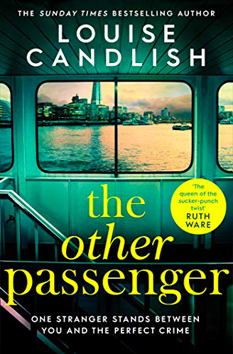 Blurb
It all happens so quickly. One day you're living the dream, commuting to work by riverbus with your charismatic neighbour Kit in the seat beside you. The next, Kit hasn't turned up for the boat and his wife Melia has reported him missing.
When you get off at your stop, the police are waiting. Another passenger saw you and Kit arguing on the boat home the night before and the police say that you had a reason to want him dead. You protest. You and Kit are friends – ask Melia, she'll vouch for you. And who exactly is this other passenger pointing the finger? What do they know about your lives?
No, whatever danger followed you home last night, you are innocent, totally innocent. Aren't you?
My Review : 5 stars
Having hugely enjoyed several other novels by my current favourite author – and none more so than the seminal Our House, I was excited to read Louise Candlish's latest; The Other Passenger. And what an exciting and unpredictable journey it proved to be.
The book is written in the first person and from a male perspective: one James Buckby, a self-centred under achiever who is knocking fifty and clearly disillusioned with life. James' character is revealed gradually and subtly, and with some delightful personality quirks that only add to the reader's perception of where the plot is headed and James' own role in events.
In common with the author's other novels, wealth, status and one-upmanship provide a recognisable thread throughout the action, and the characters – although not particularly likeable – are authentic and familiar.
As a thriller, The Other Passenger excels, but there are several blind alleys and red herrings to send you in the wrong direction. It's a masterclass in clever, beautifully written suspense and I expected nothing less.
The Next Girl by Carla Kovach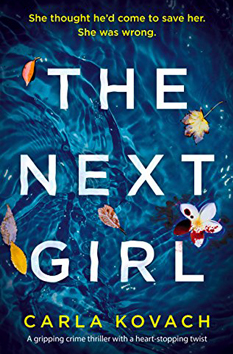 Blurb
Deborah Jenkins pulls her coat around her for the short walk home in the pouring rain. But she never makes it home that night. And she is never seen again…
Four years later, an abandoned baby girl is found wrapped in dirty rags on a doorstep. An anonymous phone call urges the police to run a DNA test on the baby. But nobody is prepared for the results.
The new-born belongs to Deborah. She's still alive…
My Review : 5 stars
This novel was my introduction to both Detective Gina Harte and the wonderful writing of Carla Kovach.
The story centres on the abduction of Debbie, a young woman snatched from her husband and two children by a ruthless psychopath. Although missing for four years, DI Gina Harte and her Stratford-on-Avon based team are compelled to reopen the case following the discovery of an abandoned new-born baby who shares the same DNA as the missing woman.
The story is fast-paced, well-structured and I enjoyed the author's writing style, although it is not for the faint hearted: some of the descriptions of Debbie's captivity, existing in the most appalling conditions directly after giving birth were gut wrenching and heart-breaking. These scenes made me care deeply about the victim and had me fervently rooting for her.
A lighter and enjoyable feature of this book was the camaraderie of the police officers and even the inclusion of an office romance. In addition, the reader slowly builds a picture of Gina's own family life (which has been no picnic!) and largely explains both her character, and her devotion to her work.
I was holding my breath for the final 25 per cent of the book, desperate for Debbie to be reunited with her family. Did it all end well? I couldn't possibly say, but I would urge you to add this recommended read to your TBR at once!
Tea & Chemo by Jackie Buxton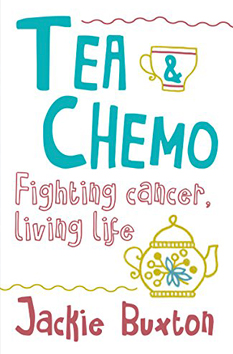 Blurb
At the age of 45, wife and mother Jackie Buxton was diagnosed with breast cancer. Lurching between the crippling fear that the cancer had spread, and the great comfort of knowing she was one of the lucky ones who could be treated, she did what she always does when life presents her with a challenge: she wrote it down.
My Review : 5 Stars
This wonderful book is a must-read for anyone dealing with cancer at any stage of their journey. It's insightful, sensible, warm, even funny at times, and brimming with heart and compassion, but without being 'icky or overly sentimental – the latter being a guarantee to send me running in the opposite direction – and fast.
It also walks a tightrope of being informative without being alarmist. And it left me thinking; ho, if Jackie can do this – I can, too.
I'm privileged to have met the author at a book launch once; and despite all that has happened to her, Jackie Buxton fizzes with energy, hope and happiness. Tea and Chemo is an inspiring read by an inspiring woman. Thank you, Jackie, for metaphorically holding my hand while I tread where you have already walked.
READING NOW!
Mine by Kelly Florentia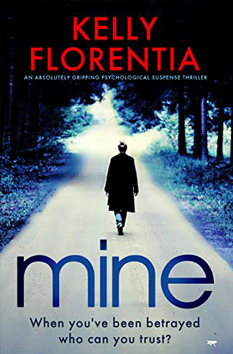 Blurb
When loner Lucy Harper accepts a Facebook friend's request from Jasmine, an old school friend, the last thing she expects is for Jasmine to run off with her husband, Andrew.
Now, newly divorced, Lucy lives in the flat she still part-owns with Andrew. After a drunken night out, she wakes up with Teddy Fallon. But this is the least of her worries.
The night before a text came through claiming someone knows her secret.
But what is Lucy hiding?
Before Lucy has time to process everything, her ex drops a bombshell – fiancé Jasmine is pregnant, and he wants his share of the money from the flat.
Then the blackmail begins.
Who is after Lucy and why?
Love isn't always innocent, and Lucy is about to learn a lesson the hard way.
Thoughts so far…
Kelly Florentia is another of my favourite authors. Her writing style is so well-observed and relatable, and her twisty plotlines flow seamlessly.  I loved The Magic Touch, No Way Back and Her Secret, so I know I'm in for a treat. With Mine, however, Kelly ups the suspense and intrigue in her first full-blown thriller – which is another reason I am so excited to read this bestseller. Tense and pacey, it has started brilliantly and I am hooked!
Review to follow.