While the storms continue to rage outside, some brilliant thrillers have kept me sane in recent weeks. Here are three recommended reads that I would urge you to add to your kindle at once!
The Whole Truth by Cara Hunter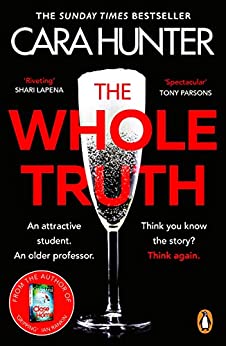 Blurb
When an Oxford student accuses one of the university's professors of sexual assault, DI Adam Fawley's team think they've heard it all before. But they couldn't be more wrong. Because this time, the predator is a woman and the shining star of the department, and the student is a six-foot male rugby player.
Soon Fawley and his team are up against the clock to figure out the truth. What they don't realise is that someone is watching. And they have a plan to put Fawley out of action for good…
My Review : 5 stars
Fifth in the DI Fawley crime series, The Whole Truth is probably my favourite to date and involves two parallel storylines. The first provides a fresh take on a sexual assault at an esteemed Oxford college; the second is somewhat closer to home, involving a senior police officer. To say any more would ruin the suspense, but the latter injects an almost unbearable tension that will keep you reading long past bedtime. In addition to these respective cases, the chemistry and bond between CID Thames Valley officers is even stronger than in past Fawley novels – although an inconclusive story line linked to DC Somer left me concerned for her wellbeing. Overall, this is a cracking series, but for me, The Whole Truth, with its high octane suspense is a high point. Bravo Cara Hunter.
The Swimming Pool by Louise Candlish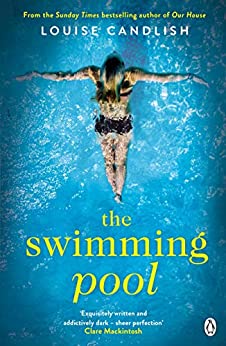 Blurb
One summer can change everything . . .
In the heady swelter of a suburban summer, the Elm Hill lido opens. For teacher Natalie Steele, the school holidays are always spent with her husband Ed and daughter Molly. But not this year.
Despite Molly's extreme phobia of water, Natalie is drawn to the lido and its dazzling social scene, led by glamorous Lara Channing. Soon she's spending long days with Lara at the pool and intimate evenings at her home.
Real life, and the person she used to be, begins to feel very far away. But is the new friendship everything it seems? Or has Natalie been swept dangerously out of her depth?
My Review : 5 stars
The Swimming Pool is classic Candlish – and I loved it. Uncomfortable, layered, nuanced and twisty, it ticks all the boxes for character-led suspense lovers like me. Did I like the main characters? Barely. Was I dazzled by them and gripped by their antics? Absolutely. This is a delicious slow-burner, except for the last hundred or so pages where there's a quickening of pace and a raft of brilliant twists. As with every novel I have read by Louise Candlish, I highly recommend it.
The Life She Wants by Mel Sherratt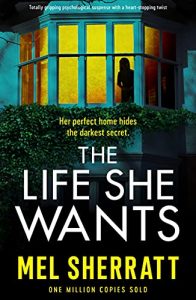 Blurb
From behind the curtains, Sarah spotted the man coming out of the house, followed by the woman. It would be strange seeing people in the property but Sarah was keen to get to know them. She needed to gain their trust.
When I met Richard, I fell for him instantly. He was able to give me everything I had always wanted, the dream house, security and above all, love like I'd never known. We lived a quiet life in the middle of nowhere; we didn't need anyone else.
So, when the empty house next door is sold, I am wary. Will our neighbours invade the perfect life Richard has built for us? As soon as I meet Juliette and Danny, I am reassured. Overwhelmed by grief after the death of their young daughter, they have moved in search of a quiet life and a chance to start again. Over dinner one evening, we hit it off instantly and I know they are just the neighbours we need.
All is well until Juliette spots a young girl in our garden. Richard convinces her that she is seeing things, that it's the grief taking over. But Juliette won't let it go. She is sure she saw a child. She believes that Richard is threatening her. She starts to think that I'm not safe.
I need to convince Juliette that she's imagining it. I need to keep Richard happy. If I am to protect everything I have built for myself, she must never find out the truth.
That my perfect life is built on the deadliest lie.
My Review : 5 stars
I'm a huge fan of dramatic domestic thrillers and this one did not disappoint. When Danny and Juliette, a bereaved young couple, leave London in search of bucolic bliss in the countryside, they get more than they bargained for. Why are their neighbours Richard and Sarah so furtive and who is the little girl occasionally seen playing in their vast garden? What other secrets lurk over the boundary wall?
This is an intriguing and enjoyable thriller told from the point of view of three women: Juliette, Sarah and Louisa. It's the story of an abusive marriage and of bitter sibling rivalry. I struggled to feel much for either of the sisters, but felt very protective to innocent bystanders, Danny and Juliette: it is their arrival that brings the vile circus of horror next door crashing down.