It's been a woefully long time since I blogged any book recommendations. I've been reading of course; I've always got at least one book on the go and with the exception of a couple of love stories and family dramas, I've been reading thrillers by my favourite authors. Can't seem to get enough of them recently. And I'm hardly unique in that. What is it about crime and the seamy side of human nature that fascinates us all? Because whether committed to print or captured on film, we humans are utterly gripped by murder – a quick glance at the Netflix Top Ten will confirm this much.
Is it because we love the adrenalin rush of fear, experienced from a safe and detached distance? Or is it that we crave puzzles, flexing the grey matter – desperate to crack the whodunnit and unmask the bad guy before the detective of the piece does so? I suspect it's a healthy blend of both factors and I for one am unashamedly hooked.
If thrillers are your bag too, here are some riveting reads that have kept my attention in recent weeks. As an occasional writer myself, I know what goes into crafting each twisty read and I salute these brilliant authors.
6 Ripley Avenue by Noelle Holten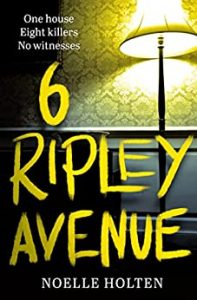 Blurb
ONE HOUSE
EIGHT KILLERS
NO WITNESSES
Jeanette is the manager of a probation hostel that houses high risk offenders released on license.
At 3am one morning, she receives a call telling her a resident has been murdered.
Her whole team, along with the eight convicted murderers, are now all suspects in a crime no one saw committed…
Don't miss the first nerve-shredding standalone thriller from Noelle Holten, author of the Maggie Jamieson series.
My Review: 5 stars
6 Ripley Avenue had me gripped from the outset and kept me reading into the small hours. It's a plot-driven fast-paced read, written from four different perspectives: Jeanette, hardworking Senior Probation Officer of a hostel for hardened criminals; Sloane, an ambitious young journalist with a tough-cookie exterior that hides a shedload of baggage; Helen, a sixty-plus widow and would-be amateur sleuth with a keen eye and a razor sharp mind; and interestingly, The Killer, who drip-feeds us tiny breadcrumbs as this brilliant juggernaut of a who-dunnit thunders along. The plot is clever and twisty, the characters are compelling and the setting bleak, but what really gives this fabulous novel stand-out power is its gritty realism. Noelle Holten knows a thing or two about the justice system, given her long service as a senior probation officer and it shows. If you like your crime thrillers served straight up and believable, this is the book for you. Highly recommended.
The Heights by Louise Candlish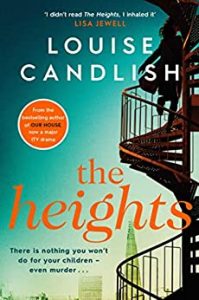 Blurb
Ellen Saint is just your average mum. Devoted to her family, she's no different from any other mother who wants the best for her kids. But when her teenage son Lucas brings a new friend home, cracks start to appear in Ellen's perfect family life.
Kieran Watts isn't like Lucas. He's rude, obnoxious and reckless, and Ellen can only watch in despair as her son falls deeper under his influence.
Then Ellen's whole world implodes and she embarks on an obsessive need to get revenge.
There is nothing you won't do for your children – even murder . . .
My Review: 5 stars
I've waxed lyrical about the novels of Louise Candlish for years, having read most if not all her books. Each has its own charm, thanks to the author's unique tone of voice, and I cannot imagine tiring of her wordsmithery any day soon. But I'm going to stick my neck out and say that The Heights is her best novel so far – and I include the awesome Our House in the mix. This book is about the most extreme version of a mother's love for her son – and how far she will go for revenge. In common with other Candlish novels, we are not asked to necessarily like main protagonist Ellen Saint but be in no doubt you will be fascinated by her every move. The Heights, which I should mention is a little crisper in style and with shorter chapters, is a book within a book as Ellen slowly reveals her story through her memoir. There are dual points of view as we also hear from her ex-husband, Vic. Incumbent husband Justin, daughter Freya, son Lucas and anti-hero Kieran Watts complete the cast – give or take a handful of minor characters. The Heights is about obsession and revenge and is a salutary lesson in what can go wrong when your kids fall in with a bad crowd. As ever, watch out for the twists. An easy five stars for this recommended read.
The Family Upstairs by Lisa Jewell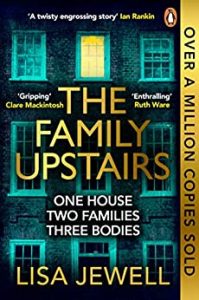 Blurb
In a large house in London's fashionable Chelsea, a baby is awake in her cot. Well-fed and cared for, she is happily waiting for someone to pick her up.
In the kitchen lie three decomposing corpses. Close to them is a hastily scrawled note.
They've been dead for several days.

Who has been looking after the baby?
And where did they go?
Two entangled families.
A house with the darkest of secrets.
My Review: 5 stars
It took a few chapters to get into the rhythm of this book but after that I flew through it and absolutely loved this brilliant novel. I've never read Lisa Jewell before and found her tone of voice pitch perfect. I was gripped by the colourful characters, loved the use of the dual timeline and completely swept away with the plot. It was slightly less dark than the blurb alluded to, but also more emotional – I found the story unexpectedly moving. To the reviewers who claim parts are unrealistic: so what? It's called poetic license and the story is richer for it. This is one of the best books I have read this year – wonderful!
The Family Remains by Lisa Jewell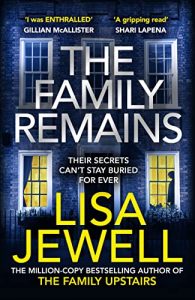 Blurb
LONDON. Early morning, June 2019: on the foreshore of the river Thames, a bag of bones is discovered. Human bones.
DCI Samuel Owusu is called to the scene and quickly sends the bag for forensic examination. The bones are those of a young woman, killed by a blow to the head many years ago.
Also inside the bag is a trail of clues, in particular the seeds of a rare tree which lead DCI Owusu back to a mansion in Chelsea where, nearly thirty years previously, three people lay dead in a kitchen, and a baby waited upstairs for someone to pick her up.
The clues point forward too to a brother and sister in Chicago searching for the only person who can make sense of their pasts.
Four deaths. An unsolved mystery. A family whose secrets can't stay buried for ever …
My Review: 5 stars
Having loved The Family Upstairs so much, I couldn't wait to get my hands on the sequel – even though it meant buying the hardback. (Actually, I'd forgotten the pleasure of such a thing, the way a hard back gently cooperates without one having to apply force or fuss; that aside…) The Family Remains has a different tone to the first book in that it is less grisly, less sad and reads more like a glamourous international mystery, than a psychological thriller. That said, it is no less compelling for it. I loved the addition of the punctilious police officer, DI Samuel Owusu, tasked with finding the identity of a small mass of female bones discovered in the Thames and ultimately, how the young woman met her end. I was gripped by the Rachel and Michael subplot (parts of which were a very tough read). The ending was satisfying and with a tiny dark flourish. Will there be a third in this series? If so, you can count me in.