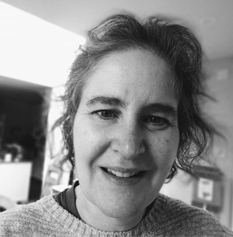 Today I'm thrilled to meet author Joanne Boden, who many of us know as Joanne Worgan.
Joanne lives in Lancashire with her husband and their two sons. She has published four non-fiction works aimed at parenting children on the Autistic spectrum, based upon her experiences as a mother of an autistic son. She has also self-published a contemporary romance novel, Picking up the Pieces. When Joanne is not busy writing, she likes to take her boys to local museums and cafes and for long family walks in the countryside.
Joanne writes contemporary romances with gorgeous heroes.  Escape to Little Bluewater Bay is her debut novel with Choc Lit and is available in Kindle, paperback and audio formats.
Blurb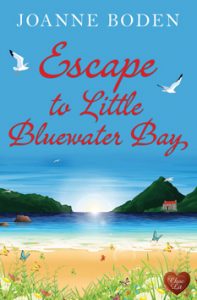 Start the new year in Little Bluewater Bay …
New year, new Willow Jenkins? All Willow knows is that she needs an escape. So, she takes an extended break from her PR job and retreats to her grandmother's cosy cottage by the sea in Little Bluewater Bay, where a limitless supply of hot chocolate will soothe her broken heart and a limited wi-fi connection will prevent her workaholic tendencies.
Willow is soon made to feel welcome by the friendly locals – although grumpy artist Noah Atkinson doesn't seem to like her very much. Just what is his problem?
But then Willow is asked by her grandmother to approach Noah with a very special commission, only to discover that he hasn't painted people for a long time – and with good reason. Will he make an exception, and in doing so usher in a hopeful and healing new era for them both?
http://mybook.to/MyLittleBluewaterBay
BH : Jo, a warm welcome, and huge congratulations on signing a three-book deal with Choc Lit Publishing. I can't wait to read your brand-new novel, Escape to Little Bluewater Bay, next-but-one on my TBR list. Having read and enjoyed your first novel, Picking up the Pieces, I know I'm in for a treat.
You must be delighted with the reaction to Escape to Little Bluewater Bay; the reviews are fantastic. What can readers expect to find inside the pages?
JB : Hello Bev and thank you for inviting me on your blog for a chat. Readers have been incredibly kind and generous with their reviews and feedback of the book. So what will you find inside the pages of Escape to Little Bluewater Bay? Well, the story is a contemporary romance, a feel good read with that happy ever after ending we all crave for. It's a story about a granddaughter reconnecting with her grandmother; it's about friendship and the importance of community and ultimately, it's a story about two lost souls who find and help each other. Set in the midst of Winter, Little Bluewater Bay may be stormy but it is also idyllic and there are many a hot chocolate to be had in the Seashell Cafe: Noah's shack on the shore provides a welcome haven from a storm one night and there's something magical about a winter themed dance…
Hopefully this book has something to offer everyone, from the impotence of grandparents, to the message that sometimes you just need to take that leap of faith.
BH : Sounds like a blend of feel good fiction, but with some important themes woven into it. Do you think in such difficult times and with so much misery in the world, people are yearning to escape into romance, and desperate for happy endings?
JB : The past couple of years have been incredibly challenging for everyone and continue to be difficult, especially with recent events in the world. I think at times we need to escape from reality for a little bit, and to not feel guilty about doing so. We all need to look after our mental health. Reading romance novels offers the perfect opportunity to do just that when we escape into other worlds. I know I always turn to romance when I need a bit of time out or that little pick me up, and to take a break from what's being reported in the news.
Escape to Little Bluewater Bay offers readers time out from reality, and to live in a world where everyone supports each other and where community means everything. And of course, there's the happy ending we all yearn for; we all need a little hope right now.
BH : Amen to that, Jo – hope is everything. I note that you've signed a three-book deal: will we be hearing from Willow and Noah again?
JB : Willow and Noah will be making another appearance. I have very nearly finished the sequel to Little Bluewater Bay and I have a rough plan for the third book in the series. The second book will feature Noah and Willow, but the story will focus heavily on two new characters who arrive in the bay. This will be Harry and Beth's story; about what brings them to the bay, and the blossoming romance between the two of them. It's been a lot of fun creating these new characters and to revisit the bay and old friends.
BH : Yes! That's it, isn't it? For both writer and reader, once you enter a series, the characters become like family and friends. Stepping away from your own book for a moment, Jo, can you name three of your favourite romance authors, please.
JB:  Nora Roberts is my absolute favourite . I am slowly making my way through her back catalogue of books and am so grateful there are so many books to read. When I am feeling a little down or just need to escape for a little while I always turn to Nora. The last book I read was The Witness, and I still can't quite shake off Police Chief Brooks Gleason.  If you haven't read it, I highly recommend it, as I do every Nora Roberts book.
Nicholas Sparks is also a firm favourite. You can't go wrong with one of his books. The last book I read was The Return, and I loved it! Such a fabulous and escapist read. I plan to reread The Notebook at some point, it's many years since i read it.
A new favourite romance author is Sally Thorne. I've read all three of her novels and love each one. Again, they are feel-good reads and the one I can't stop thinking about is Second First Impressions. I dare you not to fall in love with Teddy!
BH : What are you reading at the moment?
JB : I am currently reading three books. I usually have three on the go. I think this stems back to University days when I'd have to read a play, a novel and textbook in a matter of weeks.
I'm reading The Spanish Love Deception by Elena Armas. I downloaded my copy from the library. I'm only about a quarter of the way through, but I am loving it! It ticks all the usual boxes in the love slash hate romantic genre.
I am also reading a hardback edition of Karl Ove Knausgaard's Dancing in the Dark – My Struggle 4. I bought a second-hand copy. I am slowly making my way through the six-part My Struggle series–3,600  pages in total–and  I have to say I am enjoying them.
The third book is There Plant Eyes. A Personal and Cultural History of Blindness by M Leona Godin. I am listening to the audiobook via Audible. I want to read more books about disability from own voice perspectives and I've heard nothing but great things about this book. I also have an interest in reading about blindness and visual impairment because of my eye disease. If you're interested in reading more books on disability and chronic illness then I highly suggest you follow the author and disability advocate Jen Campbell. Her YouTube channel is fantastic.
BH : This week the audio version of your book will launch. How have you found the process?
JB : I have been incredibly lucky as the audiobook is published by Isis Audio. I still can't quite believe that my words will be read out loud in the form of an audiobook. I love audiobooks! They make books accessible for everyone. I understand that once your book is out there, you no longer own those characters, they belong to whoever is reading the book. But when I heard the narrator, Kitty Kelly, reading my words for the first time, I felt so incredibly happy and the voices she's created are exactly how I'd heard them in my head. It was such a magical moment. I am incredibly lucky.
BH: Any future writing goals?
JB : Oh yes, I am always writing. I plan to write the third book in the Little Bluewater Bay trilogy later on this year and then I have a very rough plan for a new three part series that centres around three brothers. Each story will be told from one of the brother's perspectives. I have a notebook full of scribbles and doodles.
BH: Finally, what three tips can you give to aspiring writers?
JB : The only way I can approach this question is by thinking about the advice I would give to my younger self as I am still learning every day.
Tip One – Write every day. It's a great habit to get into. Don't add pressure with word counts or time constraints, just tell yourself that you'll open that laptop and write.
Tip Two –  Write like you. Don't try and copy anyone else's writing style, Write in your own way and with your own voice.
Tip Three – It's all in the rewrite. Write, rewrite and write again. Your first draft is always you, telling yourself the story. So don't worry about how messy that first draft is, because you'll have something to work with.
BH: Jo, thank you so much – I've loved chatting about your wonderful new book today and I wish you every success with the ongoing series.
Facebook and Twitter @JoBodenAuthor