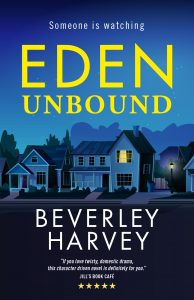 Today I am excited to present Eden Unbound, the final book in the Eden Hill Trilogy. It's been a long time coming and represents a return to my writing roots – the closing of a circle that until now had been left gaping.
For years, a small but loyal band of Eden Hill fans have been on my case to write a third book in the series, but for a long time, I'd disagreed with them. After all, neither Seeking Eden nor Eden Interrupted were commercially successful, and the whole point of writing is to share stories; to spread the word, to make the characters live and breathe – to make them matter. And, whilst both novels garnered huge affection and wonderful reviews, neither were bestsellers.
So my thoughts turned to exploring another genre and I wrote two stand alone thrillers in quick succession: The Perfect Liar and Close My Eyes, both published by Bookouture. This is it, I thought, I'm a thriller author now – and suddenly, it was all about the action, the plot, the killer twists…
Then the covid pandemic and breast cancer hit with equal force and weirdness and I stopped writing. Overnight, my brain turned to mush, and I couldn't grip anything. Where once the words had flowed and bubbled like a brook, now they only dribbled, dense as treacle.
Eventually, as covid and cancer got back in their respective boxes I started scribbling again, tentatively at first, and later with a freedom that reminded me of my earlier work. Grateful to be writing anything at all, I tuned into the cast of Eden Hill, the prosperous suburban community inspired by the new town of Kings Hill in Kent, home for a decade until I moved away in 2018.
So I wrote and I wrote, slowly, carefully – with love and affection for characters who by now felt like old friends, in a setting that I could visualise as clearly as if watching a movie. I was out of contract – without a publisher in my corner and it really didn't matter because writing Book Three of the Trilogy became the goal in and of itself.
By the end of 2022, in a year that included two house moves within six months and planning my own wedding to my beloved best friend, Mark, Eden Unbound was complete. I could exhale, enjoy my wonderful new house in the Weald of Kent, star in my own beautiful fairy-tale wedding and know that I had achieved one tiny goal.
It came as no surprise when neither of my publishers wanted Eden Unbound. Undeterred, I decided to self-publish. I knew other authors who had tamed the beast – so I screwed up my courage and got on with it.
At this point, I would like to thank literary agent Matthew Smith at Exprimez, who not only give me my first break by publishing Seeking Eden, but who also gave me a steer on how to go the indie route. Several emails and conversations later, I sought the help of Arch Publishing Services, sister company to the brilliant Hobec Books, where the effervescent Rebecca Collins turned my manuscript into a viable book. Thank you so much, Rebecca: you are amazing, and I could not have done this without you.
Importantly, I'd like to thank my wonderful husband Mark for designing the stunning cover. I couldn't be more thrilled with it and the fact that this book is a family affair means the world.
I would also like to thank the bookworms, book bloggers and fellow authors who agreed to read Eden Unbound ahead of publication; your feedback and support has been wonderful and inspiring. Thank you, thank you.
Finally, a huge thank you to readers old and new of the Eden Hill series. I hope you are intrigued enough to dig deeper into the lives of Ben and Lisa, Martin and Jan, Chloe and Jake – and of course, mysterious new arrivals, Brie and Georgia.
Happy reading!
Available now in kindle or paperback versions ORDER FROM AMAZON NOW