Today I am reviewing Eva Jordan's first standalone novel, A Gift Called Hope. If you're a fan of beautifully written emotional family drama, this is the book for you. Congratulations, Eva – I loved it!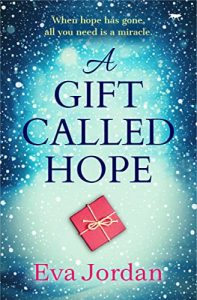 Blurb 
Six-year-old Jack is counting the days to Christmas. But his grandmother is just counting the days until it's over. For Jill, the holiday comes with painful memories, and she wants only to escape the recent past and its tragedies.
She's moved and started a new life running a food truck in Widmore Bay, a quaint seaside town, in order to flee her agonising history.
It's only for little Jack's sake that Jill tolerates the tree and decorations. She just wants to spend Christmas with the curtains drawn, reading a book and drinking coffee.
But this season, she may stumble onto a miracle that restores joy—and hope—in her heart . . .
My Review: 5 stars
An emotional journey through love, loss and hope.
Eva Jordan writes beautifully about the dynamics of family life; this much I knew already from having read and enjoyed some of her Tree of Life series. As such, I was excited to read her new standalone novel.
From the outset, I was hooked. The story centres on the lives of Jill and her grandson Jack Junior, who are trying to process and recover from the sudden death of Davey, Jill's son, and Jack Junior's father. It is this catastrophic loss that sits at the heart of the book and the author writes with such sensitivity and insight that you'll be moved to tears.
That said, the book is far from mawkish and there are flashes of humour throughout, courtesy of Mary, Jill's landlady, neighbour, and close friend, who wooed me with her Irish wit, wisdom and charm. Other key characters include Molly, Jill's adult daughter, her estranged husband, Jack Senior and Gabby, Jack Junior's mum.
I loved the setting – the picturesque seaside town of Widmore Bay – where Jill creates not only a new home for herself and Jack, but also a new career and income by serving vegetarian wholefoods from a van. Early on, we learn that this holding pattern has kept Jill relatively sane inside her grief, but as Christmas draws closer, its significance is artfully and gradually revealed. It is then that we understand the impact of Gabby on Jill's life, both past and future.
The book explores weighty emotional topics such as grief and addiction yet manages to leave us on a note of hope and optimism. One final thought; I can imagine this book expanding into a series over time.