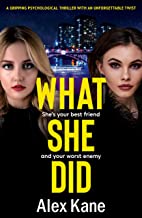 Blurb: Beth is running from her past – and her abusive ex-boyfriend. She's building a new life, but can't shake the feeling that someone is watching her.
Victoria is unhappily married to Greg. She knows he's cheating, but doesn't know what to do – until she contacts an old friend, someone who has never let her down.
Lydia knows only she can help Victoria. They haven't seen each other for years, but she'll stop at nothing to help her get revenge.
But Lydia has made a new friend in Beth. Now, none of them are safe…
Three women. Three stories. One devastating secret.
Review (Amazon 4 stars)
What She Did centres on three main characters: Victoria, Lydia and Beth, whose stories run parallel, seemingly unconnected at first. Three women linked by one grim thread – abuse at the hands of bullying, feckless and cheating partners. The action spans the recent past and the present, and the chapters are short and snappy, brilliant for reading in bite-sized chunks. Personally, I warmed to Beth's character more than Vic's – although all three women were compelling and convincing. I was also intrigued to read a novel set in urban Scotland (a departure from the myriad thrillers set in London). It's the kind of book you find yourself theorising about as you go along…but the twists were fab and kept me guessing until the bitter end. What She Did is my first read by Alex Kane – I doubt it will be the last. Highly recommended.