This autumn as delayed dawn weaves her magical mists and early evenings fill with shadows, the lure of curling up with a good book deepens. And while mystery and suspense are the main escape routes this season, there's always time for one last summer fling…
The Spanish House by Cherry Radford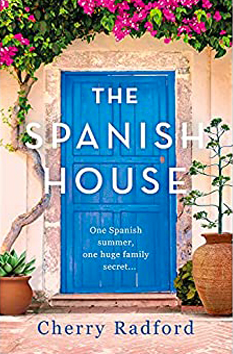 Blurb
One bizarre to-do list to earn her inheritance. One Spanish Summer. One huge family secret.
Juliana makes a modest living as an 'ethnic' TV/film extra – even though the only connections with her Spanish heritage are her cacti, Spanish classes, and some confused memories of a Spanish mother she hasn't seen since she was seven.
When her beloved Uncle Arturo offers her the chance to discover her roots while housesitting his coastal home in a quiet corner of Andalusia, Juliana can't believe her luck. Especially when he reveals that the house will be hers if she fulfils ten life-enhancing 'Conditions' within 90 days.
Redecoration of the house and a visit to the old film studio where her mother used to sew costumes seem ridiculously simple tasks for such a wonderful reward. But little does Juliana realise that there are family secrets and inherited rivalries awaiting her in sunny Spain, and the condition that she has to 'get on with the neighbours' – who include a ruggedly handsome but moody artist – may be harder than she thinks.
My review : 5 stars
I thoroughly enjoyed Cherry Radford's latest novel, The Spanish House, which as the title suggests is bursting with warmth and sunshine – the perfect antidote to dank autumn evenings. We follow film-extra Juliana (Hooli) from London to Almeria to her eccentric uncle Arturo's charming but neglected summer house. Armed with a list of obscure conditions, Hooli arrives knowing that the house will eventually be her own IF she can meet them within ninety days. Jaded by London life, Juliana sets about her challenge with gusto, unaware that her life is about to change forever. Crucial to the story is Hooli's Adonis-like artist/performer next door neighbour, and a nearby film studio where her late mother worked as a seamstress, and which holds the key to a web of family secrets. Although romance sits at the heart of the book, it is saved from being cliched or sentimental by Juliana's intriguing heritage and its wonderful cast of characters. Uncle Arturo himself is a joy and I found myself unexpectedly tearful at one particular storyline. If you want a well-written, gentle and uplifting read, The Spanish House is as warm as the Andalusian sun, and a wonderful distraction to a typical English winter. Highly recommended.
So, after my final summer fling, it's time to let the darkness in, and what could be darker and more menacing than the criminal underworld inhabited by Detective Kim Stone, created by bestselling police procedural author, Angela Marsons?
This week, as Angela launches Stolen Ones, Book Fifteen in the multi-million selling Kim Stone series, I look back at books one and two and acknowledge that a) I've got a lot of catching up to do and b) this author can probably write books faster than I can read them. Many congratulations to Angela Marsons and her publisher, Bookouture.
Silent Scream by Angela Marsons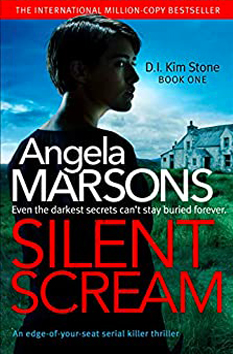 Blurb
Five figures gather round a shallow grave. They had all taken turns to dig. An adult sized hole would have taken longer. An innocent life had been taken but the pact had been made. Their secrets would be buried, bound in blood…
Years later, a headmistress is found brutally strangled, the first in a spate of gruesome murders which shock the Black Country.
But when human remains are discovered at a former children's home, disturbing secrets are also unearthed. Detective Kim Stone fast realises she's on the hunt for a twisted individual whose killing spree spans decades.
As the body count rises, Kim needs to stop the murderer before they strike again. But to catch the killer, can Kim confront the demons of her own past before it's too late?
My review : 5 stars
It is quite possible that I'm the last person in the western world to fall under the spell of Angela Marson's brilliant Detective Kim Stone series. No wonder these novels are so colossally successful! Tense, pacy and dark, I devoured my introduction to the brittle, hard-bitten Detective and her crack team with relish. However, this sinister, cleverly drawn police procedural is not for the faint-hearted – it sets out to shock and delivers in spades. Key to Stone's credibility and likeability are her intelligence, work ethic and sense of fairness; all reasons you will find yourself willing her on from first to last page.
Evil Games by Angela Marsons
Blurb
When a rapist is found mutilated in a brutal attack, Detective Kim Stone and her team are called in to bring a swift resolution. But, as more vengeful killings come to light, it soon becomes clear that there is someone far more sinister at work.
With the investigation quickly gathering momentum, Kim finds herself exposed to great danger and in the sights of a lethal individual undertaking their own twisted experiment.
Up against a sociopath who seems to know her every weakness, for Detective Stone, each move she makes could be deadly. As the body count starts to mount, Kim will have to dig deeper than ever before to stop the killing. And this time – it's personal.
My review : 5 stars
Newly converted, here I am again, back in the Black Country and ready to be swept away by Book Two, a winning combination of grit and emotion which appealed to me even more than Book One as it slowly reveals more about why and how Kim Stone is so damaged.
In this fast paced police procedural, a series of grisly murders are just the beginning: it is the puppeteer behind them that will give you nightmares. The twisted, razor-sharp plot will keep you guessing and in common with Silent Scream, Evil Games will keep you gripped to the final page.
The Marriage by KL Slater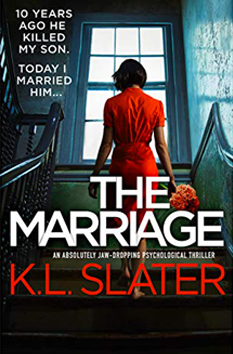 Blurb
Ten years ago he killed my son. Today I married him.
Ten years ago my darling son Jesse was murdered and our perfect family was destroyed. My strong, handsome boy, so full of life, became a memory, a photo I carried with me everywhere.
But today I'm finally close to finding happiness again. My ash-blonde hair has been curled into ringlets. Carefully placed white flowers frame my delicate features. The small, drab chapel has been prettied up with white satin, and there are tiny red hearts scattered on the small table where I will soon sign the register with my new husband.
The man who killed my son.
My friends and family can't understand it. My neighbours whisper in the street whenever I walk past. How can I love a man like Tom?
They don't really know me at all…
My review : 5 stars
This book surprised me; I don't know what I expected, but it wasn't this. The hook is compelling and the plot original. It's the story of two women, their friendship and a cataclysmic event that drives a wedge between them for ever. I'm not sure I liked or trusted either of the main protagonists, and in a plot loaded with red herrings, I found myself trying to second guess where the story was going next. Readers who love twisty domestic drama about ordinary people in extraordinary situations will lap up this novel and be left wanting more.