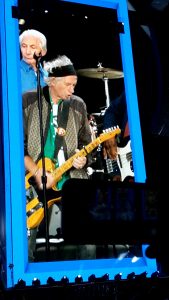 A streaming cold curtailed my weekend plans so the boyf and I ended up staying in.  It was a good excuse for vegging out in front of a screen but I've given up on television as I cannot abide reality TV or game-shows, and on the weekend, there's little else.
Thank god then for Apple TV; in our house at least, this provides a way of watching YouTube on a massive screen. On Saturday night, we ended up viewing four hours of Rolling Stones footage, combining the fascinating Totally Stripped DVD (released 2016), followed by most of Voodoo Lounge, and a bunch of other promo films from 1966 to 2011.
I admit it – I obsess about the Stones, but it has been a painful year for music lovers.  We lost Bowie and Prince within months of each other (which hurt a lot) and I hate to point out the bleedin' obvious, but the Stones are of an age when they should not be taken for granted.
So this is me, publicly thanking Mick, Keith, Ronnie and Charlie for the rockiest, most memorable and infectious rock n roll sounds in our living history.  Thank you so much – you are truly wonderful.
Musically, the Stones can do no wrong – they never disappoint, wiping the floor with bands a third of their age (which is fair enough; they've had the practice).  Keith Richards is quite possibly the best guitarist on the planet, Mick Jagger, the ultimate showman, and where would they be without Charlie Watts – voted Rolling Stones Magazine's 12th Best Drummer in the World (WTF?  How good are the first 11?).
But the Stones are more than just shit-hot musicians – and more than the sum or their parts. I don't care if it makes me sound like a barmy old Grandma when I say that, even in their 70s, the Stones still drip passion and charisma like no one else. They've hypnotised me for decades.  Please, never stop, never stop, never stop…
http://www.beverleyharvey.co.uk/wp-content/uploads/2018/05/20180522_220358-e1527164522507.jpg
3264
1836
Beverley Harvey
http://www.beverleyharvey.co.uk/wp-content/uploads/2020/09/white_logo.jpg
Beverley Harvey
2016-07-25 16:23:03
2020-09-03 09:11:17
Stoned out weekend