Today I am privileged to introduce Iain McGeachin, better known to his 22,700 Twitter followers as @ataxiascot.
Scotsman, kilt-wearer, campaigner, fundraiser, traveller, Ataxia-sufferer – and let's not forget, adventurer: Iain's list of global challenges will leave you breathless.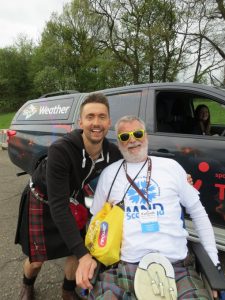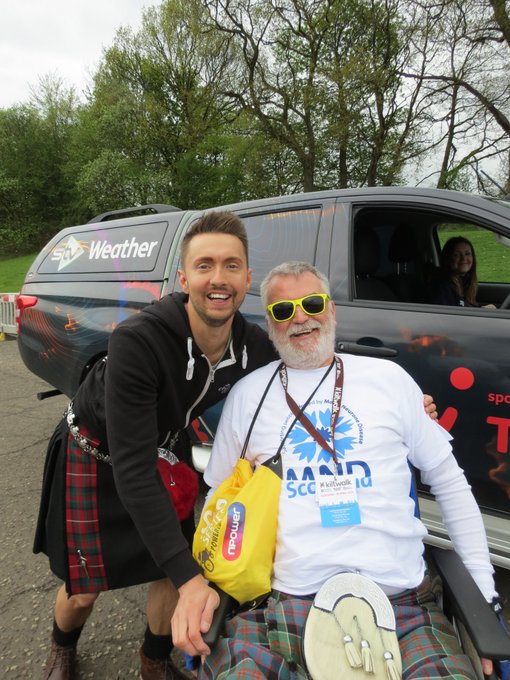 In recent years, he has walked thousands of miles for charity, raising awareness of the little-known disease Spinocerebellar Ataxia, following his own diagnosis in March 2015.
*Photo (left) : Iain McGeachin with STV's weather presenter Sean Batty 
You might think he'd want to take it easy after such a devastating blow -given that 'Ataxia' is an umbrella term for a group of progressive neurological disorders that impacts balance, coordination and speech. It affects people in different ways. In Iain's case, his walking ability has been gradually reduced – to the point where he now relies on wheels. You can read more about Ataxia on Iain's website at : https://www.ataxia.scot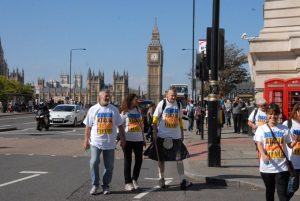 But has Ataxia slowed him down? Well, not so you'd notice. During the progression of his illness, Iain has clocked up thousands of miles, raising money and awareness for the condition; dozens of routes that kicked off with the London City Bridges Challenge for Ataxia UK in September 2015, (his first kilted-walk) followed by his 50th birthday walk in Hyde Park, and ended with a "stroll" along the French Riviera from Monte Carlo to Cannes; walking (with an ever-increasing reliance on his walking stick) in Paris, Nice, Cannes, Milan, Parma, Pisa, Florence, Ljubljana, Amsterdam, 500 miles along the Mediterranean coast of Spain, a 4-day walk around the coast of Isle of Arran (an island just off Iain's beloved Scotland), and a walk along the Canal Du Midi in France along the way: this 'walk' first signalled the end of Iain's walking days when he sustained a heavy fall near Toulouse, suffering knee-ligament damage.
*Photo (above) : Iain's first kilted walk in London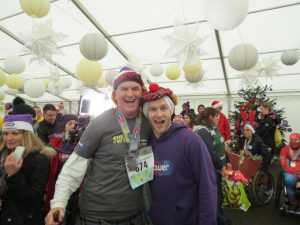 But enough from me. You get the picture; Iain McGeachin is a very busy man who likes a challenge, so let's find out more in his own words…
*Photo (left) : Iain at another successful fundraising event
BH: Iain, you are a total inspiration. Your list of walking challenges reads like an Atlas. Are there are more planned walks in the diary? And by 'walks' I include the use of your wheelchair.
I McG: For sure. And like the current "AtaxiaChristmasGiveaway" on Twitter https://twitter.com/ataxiascot/status/1203966168471605248 it will be used to raise funds for FareShare UK. The planned trip will also allow me to complete at least one of the missing stages of my 2013 "Around The World By Train" trip, the journey that I was in the middle of when Ataxia first reared its ugly head.
However, the trip will involve other companies and sponsors, and until plans are more concrete, I am sworn to secrecy!
BH: I know you're keen to focus on one particular fund raising initiative this month; the awesome #AtaxiaBookFairy project which raises funds for, and awareness of #FareShareUK – a charity focused on reducing food waste and feeding the hungry in the UK. Please, tell us all about it.
I McG: Now that my wheelchair has finally become a reality, physical fundraising for AtaxiaUK and MNDScotland has become increasingly difficult for any prolonged period of time, so I wracked my brains to see if I could come up with a means of fundraising that I could do from the comfort of home. The "#AtaxiaBookFairy" project was the answer.
It enables me to raise awareness of Ataxia, as well as raising funds for FareShare. Everyone knows what a book is; a few people even know what a "book fairy" is, so I'm hoping that people's natural curiosity makes them find out more about this "Ataxia thing".
The premise is simple too. Generous writers and publishers donate at least two copies of their books, which I then collate in two separate boxes. One copy I give away in online competitions (which promotes both the book-donor and FareShare); the other copy I give directly to various regional FareShare depots (for distribution to their volunteers). However, both copies are already labelled to encourage the sharing of the book, by leaving it in a public place – and readers are encouraged to do just this.
BH: I'm a keen reader and writer myself, but why books, Iain? How did #AtaxiaBookFairy start?
I McG: I read for the same reason I travel. Education. Now, I read for another (more important?) reason too: To exercise my brain – which is something everyone should do. In the same way that muscles are lost through lack of use ("use it or lose it"), mental exercise improves the health of our brains. And reading encourages us to do just that. We have to use our imagination to "colour in the pictures" ourselves.
BH: I am with you there, Iain – books can capture and open up whole new worlds for readers. Is there anything else you'd like to mention today?
I McG: Only to encourage people to take part in the #AtaxiaChristmasGiveaway on Twitter at: https://twitter.com/ataxiascot/status/1203966168471605248
SEVENTY books (many of them signed by the author) are included in prizes worth over £800. The competition is free-to-enter, however, donations to my FareShare Appeal are encouraged.
BH: Thank you, Iain. That's brilliant, really inspiring. I appreciate you taking the time to chat today, and I wish you every success with the Christmas Giveaways and with your ongoing fundraising.
*
To find out more visit https://www.ataxia.scot
Or follow Iain McGeachin on Twitter @ataxiascot
Visit https://fareshare.org.uk
Or follow FareShare on Twitter @FareShareUK
http://www.beverleyharvey.co.uk/wp-content/uploads/2019/11/Ataxis-Scot.jpg
680
510
Beverley Harvey
http://www.beverleyharvey.co.uk/wp-content/uploads/2020/09/white_logo.jpg
Beverley Harvey
2019-11-20 07:32:10
2020-09-03 06:46:51
In conversation with Iain McGeachin