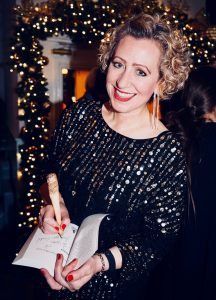 Louise's debut novel, How to be Brave, was a Guardian Readers' pick in 2015 and a top ten bestseller on Amazon. The Mountain in my Shoe longlisted for the Guardian's Not The Booker Prize 2016. The Sunday Mirror called Maria in the Moon 'quirky, darkly comic, original and heartfelt'. It was also a Must Read in the Sunday Express and a Book of the Year at LoveReadingUK. The Lion Tamer Who Lost was described as 'engrossing and captivating' by the Daily Express. It also shortlisted for the RNA's Romantic Novel of the Year and longlisted for the Polari Prize 2019. Call Me Star Girl hit number one on Kobo. It also longlisted for the Not The Booker Prize and won the Best magazine Big Book Award 2019. I Am Dust is out in ebook now.
*
I Am Dust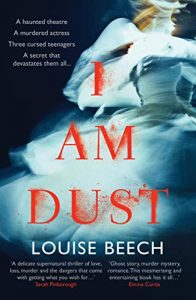 When iconic musical Dust is revived twenty years after the leading actress was murdered in her dressing room, a series of eerie events haunts the new cast, in a bewitching, beguiling, moving and terrifyingly dark psychological thriller…
'A delicate supernatural thriller of love, loss, murder and the dangers that come with getting what you wish for. Quite lovely in a dark, dark way' Sarah Pinborough
'Ghost story, murder mystery, romance. This mesmerising and entertaining book has it all…' Emma Curtis
'Haunting, provocative, and true to Beech's style: packed with pain and heart' Jack Jordan
[Source: Amazon]
#Kindle https://www.amazon.co.uk/I-Am-Dust-Louise-Beech-ebook/dp/B07X8SSJV7/
#Pre-order paperback https://www.amazon.co.uk/I-Am-Dust-Louise-Beech/dp/1913193217/
*
BH: Hello Louise. I feel like a gushing fan here, but I can't tell you how excited I am that you agreed to chat today.
LB: Oh, you are just a joy! I'm excited to chat to you too. Thank you for asking me.
BH: Can we kick off by talking about your sixth novel, I Am Dust, please? The paperback will launch 16th April, and I can't wait to read it, having absolutely loved Maria in the Moon and Call Me Star Girl. Just reading the blurb and some of the reviews has given me Goosebumps. My impression, Louise, is that your books are very personal and connected to your own experiences. Can you tell us what inspired I Am Dust?
LB: Wow. Goosebumps? What a thrill. Yes, I would love to talk about I Am Dust. And you're right, my books are always personal. Some real-life event usually inspired a theme or topic. This time it was when I did a Ouija board as a teenager. It was really intense and has haunted me ever since. I thought this kind of experience would be a great backstory for my usher Chloe, who works in a haunted theatre and has just heard that iconic musical Dust is going to be resurrected. I have to add that I wrote this book during a very difficult time – I started it last year just twelve days after my mum jumped off the Humber Bridge. She is recovering now, but writing this novel was my therapy.
BH: What incredible focus you have, to keep writing during such a difficult and traumatic time. In a few words, can you sum up the key themes?
LB: I explore where we go after we die. Whether witchcraft is real, or simply our own inner power. There's betrayal, revenge, and a tragic love story too.
BH: It sounds incredibly powerful- full of intrigue and dark forces. I am soo looking forward to reading this book! Louise, you're a huge inspiration to so many writers and very loved among the literary community. Can you think back to your first novel How to be Brave; how long did it take to write and what was your route to getting published?
LB: You're so kind. I can't describe how excited I was when How to be Brave was finally bought by Karen Sullivan at Orenda books. I had written four novels and all of them had been rejected over a ten-year period by every single UK publisher and agent – or so it felt! The book itself only took four months to write but then two more years to be published. I did the very unprofessional thing of tweeting Karen, telling her about the book. But she read it and loved it, so my cheek paid off.
BH: In spades! Ha-ha! Do you have any advice for fledgling writers?
LB: Never EVER give up. Simple as that.
BH: Hang on, I'll just engrave that on my heart…  You've been very open about some of your personal struggles; your Mum's mental health, being a single parent at a tender age (until you met your lovely husband of course). Back then, when life was really challenging, did you dream of being a writer, and do you think those early life experiences helped shape your novels?
LB: Oh, I dreamed of being a writer from the age of eight. I used to tell people at school that one day I'd be a world-famous novelist – haha. Not quite there yet, but never say never. But yes, my early experiences definitely shaped my writing and made me want to tell deep, emotional stories. I'm now writing my own – my memoir. And it has been the hardest but most rewarding so far.
BH: How important is location in your books and what makes Hull such a great backdrop for your writing?
LB: Ah, good old Hull. A great city. Gritty, full of maritime history and earthy people. The River Humber is one of the most dangerous in the world and so has featured in many of my novels. As have houses I lived in as a child, like The Cliff, which is now gone. There's beauty in the rawness up here, in the biting cold on the docks and the rural landscape.
BH: Okay, a first on my blog: let's end on a frivolous note with a quick-fire quiz. It's just for fun so shoot from the hip.
1. Going out, or staying in?   Both, equally.
2. Spring or Autumn?   Autumn – I love the golden colours.
3. Cats or dogs?   Dogs all the way. (I'm a dog in Chinese astrology.)
4. The Beatles or the Rolling Stones?   The Beatles.
5. Dress up or dress down?   Haha – up for out, down for at home.
6. Heels or flats?   Flats. (I'm 5ft9.)
7. The last book you read?   An advance copy of John Marrs' newest, untitled manuscript.
8. The last movie you saw?   It Chapter Two – loved it.
9. Favourite smell?   Warm bread.
10. Last thing that made you cry?   Everything makes me cry. Adverts, books, films…
BH: Louise, thank you so much for talking today. I've really enjoyed getting to know you better. Good luck with I Am Dust – not that you need it! Watch this space for my forthcoming review.
*
Find out more or contact Louise Beech at:
https://louisebeech.co.uk/
https://www.amazon.co.uk/Louise-Beech/e/B00XUIX0TW
Twitter @LouiseWriter
Published by http://orendabooks.co.uk/
Just three more of Louise  Beech's stunning novels…