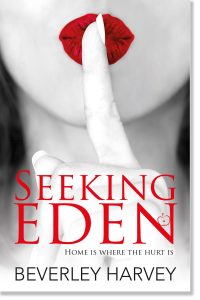 I'm very blessed that my partner is a talented graphic artist and web designer slash builder.  I'm even luckier that however busy Mark is, when I need a website or page, he loyally puts me at the top of his massive To Do list.  For this, and for so many other daily acts of kindness, I am truly grateful.
So, this week, I am pleased to unveil a new website, devoted exclusively to Seeking Eden, my debut novel on Urbane Publications.  Needless to say, I'm very excited about the book – and who can blame me?  It's my first.
But how much to share in advance?  Every book needs a blurb – and writing a good one is a skill set in itself – but what else might tempt people into reading a novel?
For me, one of the most important qualities in a book is finding characters that I can identify with.  I don't have to like them; afterall, it would seem like a big ask for readers to buy into an alcoholic, unemployed, self-obsessed fantasist, yet Paula Hawkins's 'Rachel' in The Girl on the Train, is exactly that.  Ah, but I do need to get them – and to have some insight into why they behave as they do.
So, mindful of creating an attractive shop window for my novel, I've included a short profile for my lead protagonists. Trying to distil Kate, Lisa, Ben and Martin into a couple of sentences proved to be quite a challenge…because they are flawed and complex, with messy lives that can get derailed.  Just like the rest of us then!
I may add further information to seekingeden.co.uk as the launch of the book draws closer.  Or I may not; because how much is too much?
Seeking Eden will publish on 6th July 2017 with Urbane Publications
http://www.beverleyharvey.co.uk/wp-content/uploads/2016/06/bev_backgrounds_1200x280_4.jpg
280
1200
Beverley Harvey
http://www.beverleyharvey.co.uk/wp-content/uploads/2020/09/white_logo.jpg
Beverley Harvey
2017-05-09 11:32:40
2020-09-03 08:04:45
How much is too much?