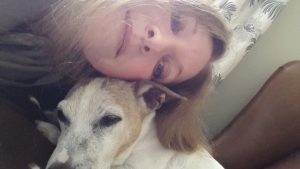 In her autobiography The Road to Happiness is Always Under Construction, Dallas actress Linda Gray talks about her daily gratitude walk.
Linda's life challenges have been well documented; she suffered polio as a child, grew up with an alcoholic mother, and entered an abusive marriage at twenty two.  After her big break in Dallas at 38, the trials kept coming, with a marriage break up and the loss of her sister to breast cancer.
Yet Linda – now in her 70s – is known not only for her limpid eyed portrayal of Sue-Ellen, but for her grace, beauty and wisdom.  In her book, she describes her gratitude walk as a time to contemplate her many blessings, and the cornerstone of every day.
I have a good friend, who is beautiful, kind and very spiritual, who also takes the time (and head space) to do this – and she radiates happiness and goodwill.  This woman is not alone; a growing army of us are doing exactly this – and reaping the spiritual benefits.
As a person who battles melancholy and depression, for me, living in this way is more of an aspiration than an achievement…but I'm getting there. One thing I have done consistently for the last year, is to begin each day by thanking my wonderful old doggie for staying with me another day.  I say it out loud, the moment I open my eyes and feel his warmth beside me.
One day, it will not be the case, but for every day Rodney is here, I am truly grateful.  The walk we do together, around the streets and green spaces where we live, is our gratitude walk, whatever the weather, and however slow the pace.
http://www.beverleyharvey.co.uk/wp-content/uploads/2016/07/rodney-bev-selfie-Aug15.jpg
810
1440
Beverley Harvey
http://www.beverleyharvey.co.uk/wp-content/uploads/2020/09/white_logo.jpg
Beverley Harvey
2016-07-30 12:54:04
2020-09-03 09:10:08
Dear Rodney, thank you for staying another day