The last few weeks have been a bag of mixed blessings; the rough with the smooth, the yin with the yang (insert your own cliché here).
Still raw from the passing of our beloved old dog Rodney, after new year the Boyf and I returned to the shelter Rodney came from, hoping to adopt another pup. There we found Brodie; a male, five year old Jack Russell terrier, who'd been picked up by dog wardens on the streets of south London.  He was posted as 'Found' on a number of databases – and was also micro-chipped, but no owner came forward.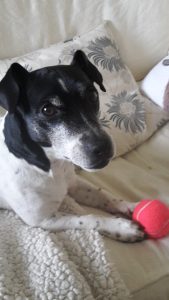 It was love at first sight, so we took him home, via a large pet emporium, where we bought him a bed and blankets, toys, new collar and lead, and a shed-load of food.  Then we marvelled at our good fortune, thankful that fate had delivered us another little dog to love and care for.
Within twenty-four hours, we were wondering what the hell we'd done, when it became clear that Brodie has a serious (read extreme) reaction to other dogs.  Now, anyone who knows JRTs will be aware that they can be feisty, fearless and to anthropomorphise like mad for a second, can suffer from little man syndrome.  And I get that – been there before with Rodney, and was forced to wear the T-Shirt for many years.
But Brodie is in another league, and I fear that unless he can be rehabilitated, he will spend his life on a very short lead.  To this end, we have a trainer in place – a former police dog handler – who is hopeful that Brodie can improve over time.
Are we tempted to return Brodie to the shelter?  Yes, every day; there is no such thing as a nice chilled walk spent chatting with other dog owners, while enjoying the fresh air and nature's bounty – instead, I am on tenterhooks, scanning the horizon for dogs, and ready to march Brodie past whatever poor creature he is focused on attacking.
If you are wondering why there is no squeal of tyres in our haste to drive him away, it is because at home he is the softest, sweetest and most affectionate boy we could ask for.  Obedient, clean and cuddly beyond my wildest dreams, I am determined to give Brodie every last chance at succeeding.  All dog aggression stems from fear – and who knows what this poor little dog has been through in the last five years.  I am hopeful that he will respond to love, kindness and security.  I've no wish to consign him to kennel life, by returning him to the rescue where I found him.   Trust me, if this has to happen, my world will implode and my heart will break a second time.
http://www.beverleyharvey.co.uk/wp-content/uploads/2017/02/Brodie-red-ball.jpg
3264
1836
Beverley Harvey
http://www.beverleyharvey.co.uk/wp-content/uploads/2020/09/white_logo.jpg
Beverley Harvey
2017-02-06 10:32:31
2020-09-03 08:09:12
There is no love like dog-love