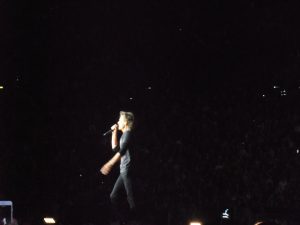 Last night, I looked into Mick Jagger's eyes and saw fire. No, I wasn't dreaming (although I have dreamt about most members of the Rolling Stones, and even all at once, but I digress). In the real world, I was privileged to see the Stones play the London Stadium and it was quite a homecoming.
Last September, I caught the Italian leg of the Stones' No Filter Tour in Lucca and was euphoric to get a second bite of this luscious cherry at the start of their UK tour. So I thought I knew what I was getting. Well I did, and I didn't. One thing evident from the opening chords of Street Fighting Man was that the Rolling Stones are fresher, rested and rearing to go. Their playing was tighter, their energy higher and the happy vibes on stage were off the hook.
The set list has the same components, but in a different running order (which confused the faithful as we stood hooting in the fading light in anticipation of Sympathy for the Devil) and as with the 2017 European dates, each city gets its own track, voted for on social media some 48 before. In the case of The London Stadium, this was Under my Thumb.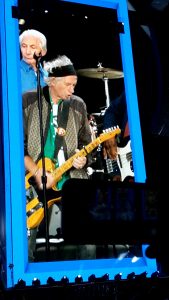 Thanks to superior (read more expensive) tickets we had a much better view and were closer to the stage in London than in Lucca and despite the capacity crowd of around 80,000 there was an intimacy which is hard to describe….I dunno, maybe the people at the back and up in the gods would disagree; there was also a poignancy about seeing the boys in their home town.
So, to the music: Street Fighting Man was swiftly followed by It's Only Rock & Roll (which naturally sparked a mass singalong) then into Tumbling Dice and Paint it Black before entering the Blues zone with Ride em on Down. Under My Thumb followed before a change of tempo with Fool to Cry.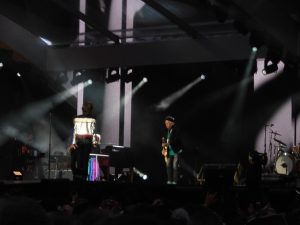 Without naming the whole set list, I'll just say that no Stones fan would have been disappointed. It was all there – including a grandiose ten-minute version of Midnight Rambler when the lid blew off and stayed off – through Start Me Up, Jumping Jack Flash and Brown Sugar, ending in the ultimate encore with Gimme Shelter and Satisfaction.
I defy any Stones fan present to be disappointed; the love in the room could have powered the national grid.
And that's the thing about the Stones. The fire still burns; I saw it raging in the eyes of Mick Jagger, less than ten metres away. These guys love what they do more than life itself – and we love them for it. When it comes to performing live, nobody can touch the Stones and every gig is a life affirming celebration. Mick, Keith, Charlie, Ronnie and their extended musical family are a total inspiration – and long may that continue.
*Photographic images my own
http://www.beverleyharvey.co.uk/wp-content/uploads/2018/05/P5220391.jpg
3216
4288
Beverley Harvey
http://www.beverleyharvey.co.uk/wp-content/uploads/2020/09/white_logo.jpg
Beverley Harvey
2018-05-24 13:31:09
2020-09-03 07:10:43
Rolling Stones No Filter, London Stadium, 22nd May 2018