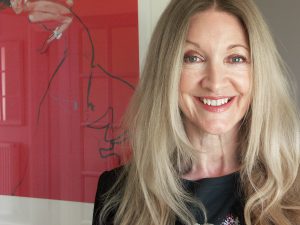 In early March I landed a two book contract with highly acclaimed publisher Bookouture. That my next couple of novels could potentially reach a whole new wave of readers at home and abroad seemed like a dream come true and a real game-changer.
I was and am truly grateful for the opportunity but three months on, I realise just how committed authors signed to large publishers really are. The pressure to deliver to tight deadlines is immense. This isn't a whinge, more of an epiphany, now that I find myself writing all day and every day; editing one book and writing a second from scratch, in order to meet my new publisher's deadlines. It's scary, exhilarating and exhausting in equal measure.
It has also meant a shift in priorities. The house is grubby (and on some days, so am I) and #Lockdown has proved to be a surprising ally, because no social life = no distractions, and so my progress has been better than I'd imagined (fingers crossed – my editor might tell a different story!). God alone knows how authors with full or part-time jobs and/or children manage – hats off to every single one of you.
Sadly, my reading has taken a hit. Fewer novels are landing on my night stand, and those I do pick up are taking much longer to get through – given that I now spend all day in Word-Land, and my eyes and brain are tired and fuzzy by the time I crawl into bed at night.
Regardless, here are some mini-reviews of my recent #Lockdown reads. I loved them all, so thank you to these brilliant authors for keeping me entertained and inspiring me to carry on writing.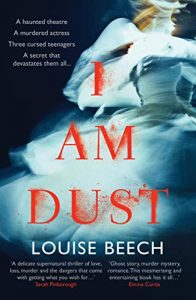 I Am Dust by Louise Beech
Review (Amazon 5 stars)
A new novel by Louise Beech is always an event and I Am Dust proved no exception. This book defies genre and is richer for it. It's a ghost story, wrapped in a love story, bound up in a tale of ruthless ambition and avarice – all with a liberal sprinkling of magic and stardust. The timeline trips between 2005 and 2019 and I loved the setting: The Dean Wilson Theatre, Hull, which is haunted by the leading lady of its most dazzling production Dust. I instantly warmed to the author's main protagonist, Chloe. Talented but under confident, a self harmer and unsure of her sexuality until she falls for Jess – the start of a love story that spans decades (and possibly eternity). The supernatural element soon becomes pragmatic and plausible, creating a spiritual backdrop for this wonderful story of unrequited love and ambition. Expect to be moved to tears by the unexpected ending. I loved it. Thank you, Louise Beech, for another beautiful and thought provoking read.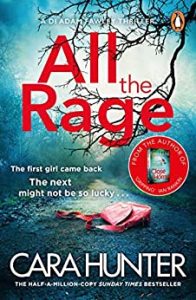 All the Rage by Cara Hunter
Review (Amazon 4 stars)
All the Rage is Book Four in the DI Adam Fawley series and having enjoyed the other three, I was keen to keep going. This time, Thames Valley Police, Oxford, are called upon to investigate the brutal attack of a young woman. Sometime later and in the same vicinity, another young woman goes missing and is found dead. Both attacks bear the same hallmarks of an evil predator.
As is Cara Hunter's signature style, All the Rage is a complex and twisty thriller, which includes red herrings aplenty, a subplot involving a twenty year old case (that has the same MO as the current attacks) also investigated by Fawley and which involved his now pregnant wife, Alex. In addition, we continue to see the growth and development of Fawley's team. I particularly enjoyed seeing the female officers shine (DCs Somer and Everett share the limelight here) as well as DI Rose Gallagher, on secondment from another force.
Fawley die-hards will love the novel – although for me personally, I preferred others in the series. However any lapse in pace was beautifully rescued by the shocking and satisfying ending.
Clever, accomplished and very real; another triumph for both Cara Hunter and DI Fawley himself.
Those People by Louise Candlish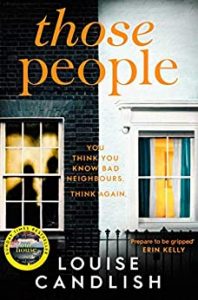 Review (Amazon 4 stars)
Those People is my second visit into Louise Candlish's intricately constructed world of class and one-upmanship in suburban London. Having spent most of my adult life living in the same streets she so eloquently captures, the characters and locations resonate brilliantly. So too does the minefield of non-conformist (read undesirable) neighbours rocking up to shatter the former middle-class idyll that is Lowland Way, with its cringey cliques and Play Out Sunday scheme. Readers may not warm to the characters, but we recognise them at fifty paces – and it is this familiarity that kept me turning the pages eager to find out what on earth could happen next.
Those People is a witty and satisfying read – although on balance I prefer the stronger plot of Our House – similar and yet more creepy. The key attraction here is that IT COULD HAPPEN. To you.
The School Friend by Alison Jame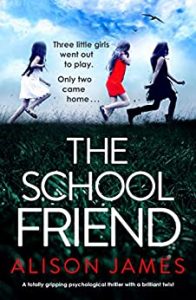 s
Review (Amazon 5 stars)
Two gripping plots interweave in this twisty tale: the doomed friendship of schoolgirl besties Lucy and Adele set in the mid-90s, and the disastrous marriage of Lucinda and Marcus set in the present. A common theme in both timelines is the manipulation of Lucy – first by her pushy, wrong-side-of-the-tracks classmate Adele, and later by her obsessive and coercive husband, distinguished surgeon Marcus Wheedon.
As with most psychological thrillers, at the cornerstone of the plot sits a secret; a reckless act that took place during the girls' childhood and which later comes back to haunt them.
Meanwhile in wealthy and genteel South West London, Lucy acts out the role of dutiful wife; a flightless bird in a gilded cage – until her life becomes untenable as Marcus, responding to NHS cutbacks becomes ever more erratic and controlling, to the point where the reader fears not just for Lucy's wellbeing, but for her life.
Realising she is out of her depth, Lucy enlists the help of her old friend Adele and her dubious connections – with radical consequences. It is at this point that the action turns very dark indeed. I enjoyed the author's smooth writing style – unfussy and with just the right amount of detail – but I predicted the main 'twist' ahead of its reveal. However, this did not detract from my overall enjoyment and I'd recommend this book to lovers of domestic suspense.