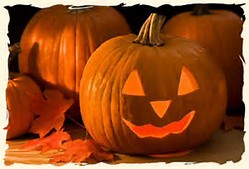 Like it or loath it, you can't miss Halloween. From early September, the supermarkets are full of creepy snacks and itchy kids' costumes. I live in a community which is very child centric and families go to incredible lengths to decorate their homes. I'm not talking Jack O'Lanterns in the window, or spray cobwebs on the porch here, but sometimes whole graveyards in the front garden, complete with stray bloodied body parts and hammer horror organ music that trips on as you walk by.
One nearby street, which has a great many children of school age living in it, becomes a veritable Halloween theme park for the best part of a week and come the big night, children queue in the most genteel and orderly fashion to collect their Trick or Treat sweets. Weeelll… it's only a bit of fun!
Here's what happened to Kate, one of the main characters in my debut novel, Seeking Eden.  Sound familiar…?
Novel Extract from Seeking Eden, published by Urbane
High on sugar, three little spooks jostled at the door, out-creeping each other in their lurid nylon costumes and masks.
'Trick or treat!' they yelled in unison.
'Treat!' Kate said, holding out a tray of home-baked spooky-iced biscuits she'd copied from a TV show that morning.
'Haven't you got any proper sweets?' said a tiny ghost who could have been either boy or girl.
'These are proper…have one, they're delicious.'
'Are they gluten free?' said the tallest of the trio.
'What? Er, no…I'm afraid they aren't.'
For god's sake! She hadn't expected to negotiate with a bunch of pre-schoolers about the quality or allergen risks of her Halloween snacks.
In another hour, Neil would be home for their mid-week meal together, at which point, they'd hide out in the back of the house and stop answering the door; a relief no doubt, to poor Ludo, who was exhausted from running up and down the hallway to guard against ghouls and evil spirits every ten minutes or so.
Arriving right on schedule, Neil looked tired.
'Hello, sweetheart – what smells so good?' He said, draping his jacket over the stair banisters. Sighing, Kate hung it in the hall closet.
'Well not my Halloween biscuits, apparently. Next year, I'll just get a bag of chocolate mini-bars like everyone else. I've made shepherd's pie. You look shattered darling; are you okay?' Kate said, removing a piping hot dish from the oven…
You can read more at : https://www.amazon.co.uk/Seeking-Eden-Beverley-Harvey/dp/1911331892/
Happy Halloween!
http://www.beverleyharvey.co.uk/wp-content/uploads/2017/10/pumpkins.jpg
169
249
Beverley Harvey
http://www.beverleyharvey.co.uk/wp-content/uploads/2020/09/white_logo.jpg
Beverley Harvey
2017-10-20 12:27:26
2020-09-03 07:21:52
Like it or not you can't ignore Halloween