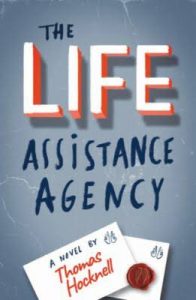 Thomas Hocknell's debut novel The Life Assistance Agency skilfully combines two genres. It's an adventure thriller; tense, suspenseful and threat-laden with twists a plenty, but the supernatural theme of the book means that it will also appeal to lovers of adult magic and fantasy.
The barest bones of the plot are that Ben Furguson-Cripps, a hapless author disillusioned with his craft, finds work alongside an old chum, the ebullient (or should that be jammy?) Scott Wildblood, proprietor of the mysterious Life Assistance Agency.
The LAA works much like a detective agency; clients present challenges (and none are too obscure); Ben and Scott provide the solution. The pair are hired to find a missing person, Mr Foxe, a historian and scholar with links to an Elizabethan angel-caller, Dr John Dee.
Ben and Scott travel across Europe in their quest for Foxe, with considerable hindrance from The Society, whose role it is to stop ordinary folk straying into extraordinary territories (ie, occult and spiritual mine fields). A trail of historic relics, together with the vibrantly written diary of Mrs Jane Dee dating back to the 1500s, leads Ben and Scott to the streets of ancient Prague where the dark and shocking secrets of Dr Dee are finally revealed.
As someone who rarely reads this type of novel, I am struggling for a literary comparison, but if a filmic one will suffice, this book lands on a spectrum that includes the Bourne series and Angel Heart for its fast paced and vibrant locations, and spooky supernatural undercurrent of the main character respectively.
Throughout the drama, readers will enjoy Tom Hocknell's lively prose which is liberally sprinkled with funny and original metaphors and similes. There's even an element of sexual tension and betrayal which threatens an unlikely bro'mance.
Overall, TLAA is a highly entertaining read.
http://www.beverleyharvey.co.uk/wp-content/uploads/2016/10/The-Life-Assistance-Agency.jpg
400
261
Beverley Harvey
http://www.beverleyharvey.co.uk/wp-content/uploads/2020/09/white_logo.jpg
Beverley Harvey
2016-10-24 17:47:32
2020-09-03 08:23:43
Book Review: The Life Assistance Agency by Thomas Hocknell