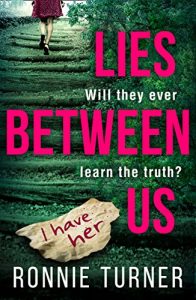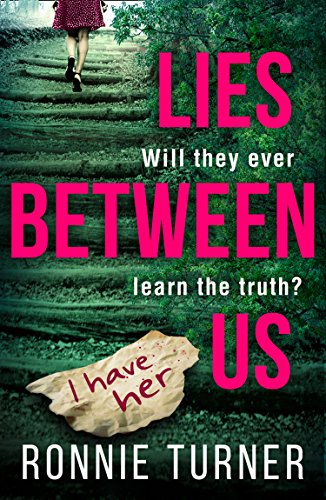 I've just finished and thoroughly enjoyed Ronnie Turner's debut 'Lies Between Us' – if enjoyed is quite the right word for something so utterly macabre.
Personally, I like my psychological thrillers like my favourite chocolate; dark, bitter, well-crafted and satisfying. Conversely if you're looking for a safe, predictable read – don't even go there. Lies Between Us tackles some grim themes; infant death and child abduction to name a couple. But ultimately, this is a tale of obsession, narrated by three separate and very different characters: John, a successful author and devoted father, Maisie an ICU Nurse who cares deeply for her patients but hides her own pain and Miller, a weird and misunderstood kid, with a terrifying inner dialogue.
The plot flows between three timelines and I'd advise paying attention to these as you go along. At the heart of it sits the abduction of Bonnie, six-year-old daughter of John and his pregnant wife, Jules. Whilst there is no shortage of missing-child-thrillers (I've read four or five this year alone), the author manages to provide a fresh take.
I loved Ronnie Turner's visceral writing style which raises no flags that Lies Between Us is her debut, and the pace was exactly what I wanted.
I enjoyed every riveting mile of the journey, but this is where I must fess up and say I was confused by the final destination. There are several big reveals, including how the characters' lives are connected – which was brilliant – but beyond that I'm torn between several interpretations. This is a book that will stay with you, long after you've snapped the pages shut and I highly recommend it.
http://www.beverleyharvey.co.uk/wp-content/uploads/2018/10/Lies-between-us.jpg
500
326
Beverley Harvey
http://www.beverleyharvey.co.uk/wp-content/uploads/2020/09/white_logo.jpg
Beverley Harvey
2018-10-30 11:38:09
2020-09-03 07:05:17
Book Review: Lies Between Us by Ronnie Turner