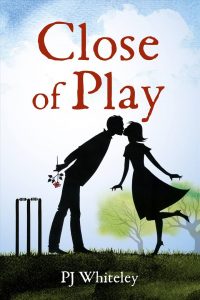 I have just read and thoroughly enjoyed PJ Whiteley's Close of Play. Set in the late 90s, there are dual themes running here: First to emerge is our hero Brian Clarke's devotion to cricket (the clue is in the title). Brian describes himself as 'old school' and is well aware that his middle-aged, middle-class, middle-England life is saved from boredom and despair by the 'gentleman's game' which he plays with vim and vigour every weekend of the season.
Cricket lovers are in for a treat as Mr Whiteley's vibrant descriptions of the Sussex team manoeuvres – on and off the pitch – leave you feeling as though you are spectating – or at times, batting.
But this is not only a story of locker room bonding, which becomes clear when Brian meets a 42 year old spinster, the gracious and often feisty Elizabeth. Devout Christians both, Brian and Elizabeth embark on a tentative love affair that at times reminded me of one of my favourite books, Remains of the Day by Kazuo Ishiguro, in that it left me feeling frustrated with the main characters, and thinking'for god's sake, man – just KISS her!'
Beautifully and vividly written, Close of Play is a 'will they/won't they?' that leaves you hoping desperately that they will…eventually. It runs the gamut of emotions, and is packed with warmth and humour and some wonderful images of bucolic Sussex village life. What's not to like? Recommended.
http://www.beverleyharvey.co.uk/wp-content/uploads/2016/11/Close-of-Play.jpg
1080
720
Beverley Harvey
http://www.beverleyharvey.co.uk/wp-content/uploads/2020/09/white_logo.jpg
Beverley Harvey
2016-11-03 11:07:44
2020-09-03 08:22:14
Book Review : Close of Play by P J Whiteley