It's been an odd few weeks for me – not least because I've been trogging off to Portsmouth every weekday for the last three to complete my course of radiotherapy at Portsmouth QA Hospital. The men and women who make up the radiography team there are nothing short of brilliant. Their care, kindness and professional expertise is quite literally life-saving, so I'm kicking off by saying a huge and heartfelt thank you to every single one of them: you are all amazing and I'm so grateful that I was able to tap into the service as part of my recovery from breast cancer.
So that said, one of the things that kept me sane during time spent sitting in hospital waiting rooms was my kindle: if it wasn't before, it has now escalated to being my most prized possession. Here are some of the brilliant books I've loved in recent weeks.
The House by the Sea by Louise Douglas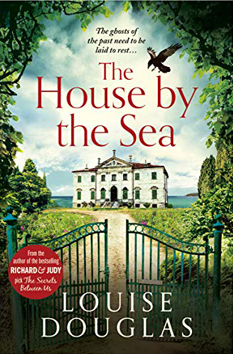 Blurb
When Edie's mother-in-law, Anna DeLuca, dies, she is relieved. Edie blames Anna for the accident that destroyed her family. So, when her will lures Edie to Sicily and the long-abandoned Villa della Madonna del Mare, she sees through Anna's games.
Suspecting Anna is meddling from beyond the grave to try to reunite her and her ex-husband Joe, Edie is determined to leave Italy as soon as possible. But before she can, the villa starts to shed its mysterious secrets.
Who are the girls beside Anna in her childhood photos, and why has one of them been scratched out? Why does someone, or something, want them to leave the past untouched? The villa is a place where old ghosts feel at home, but does their legacy need to be laid to rest before Edie and Joe can move on…
Bestselling author Louise Douglas returns with a captivating, chilling and unforgettable tale of betrayal, jealousy and the mysteries hidden in every family history.
My Review : 5 stars
This is my first time out with Louise Douglas but my goodness, it will not be my last. Her ability to convey raw, visceral emotion, without being the slightest bit mawkish or cliched is extraordinary. I gather the author is best known for romantic fiction but The House by the Sea took me by surprise in that it is so much more. It's a quest – a journey – both physically and spiritually, as main characters Edie and Joe travel to Sicily to explore their inheritance, a grand but now delipidated villa, that echoes with ghosts and secrets. There they find love and forgiveness, hostility and danger, and ultimately hope. I'm unwilling to divulge any more about this beautifully written book – other than to say I highly recommend it. In fact, I enjoyed this tale of love, loss and redemption so much that after originally reading it on my kindle, I then bought the paperback for keeps.
Mine by Kelly Florentia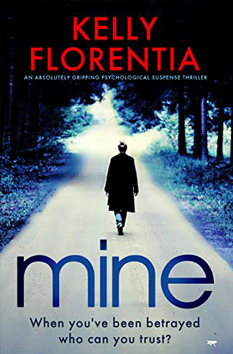 Blurb
When loner Lucy Harper, accepts a Facebook friend's request from Jasmine, an old school friend, the last thing she expects is for Jasmine to run off with her husband, Andrew.
Now, newly divorced, Lucy lives in the flat she still part-owns with Andrew. After a drunken night out, she wakes up with Teddy Fallon. But this is the least of her worries.
The night before a text came through claiming someone knows her secret.
But what is Lucy hiding?
Before Lucy has time to process everything, her ex drops a bombshell – fiancé Jasmine is pregnant, and he wants his share of the money from the flat.
Then the blackmail begins.
Who is after Lucy and why?
Love isn't always innocent, and Lucy is about to learn a lesson the hard way.
My Review : 5 stars
This thriller rips along at a breakneck pace and I loved it! Having read and hugely enjoyed The Magic Touch, No Way Back and Her Secret, I couldn't wait to read Kelly Florentia's first full-blown psychological thriller, Mine. And wow, what a roller-coaster ride it is!
In leafy North London, we meet divorcee Lucy Harper. Flawed, chaotic and endearing, from the off we discover that Lucy likes a drink – which only adds to her problems, impairing her judgement, fogging her memory, and leaving her prey to blackmail and deception.
Accused of a faux pas she did not commit, Lucy soon finds herself friendless as besties Alison and her Mum Karen shun her, leaving her vulnerable and alone. As if that wasn't bad enough, her cheating, selfish ex, Andrew, demands that Lucy sells the flat they still jointly own to release his share of equity so he can set up home with new love Jasmine. Feeling lost, Lucy turns to Teddy Fallon, a handsome and good-natured gardener, whom she meets on a boozy night out and who soon makes himself indispensable as friend, confidante and protector. But who can Lucy trust? Everyone is under suspicion in this fast-paced twisty read.
As a thriller, this book speeds along, full of twists and turns. I had a number of theories about who the blackmailer could be – but I was way off course when it came to the final reveal.
Kelly's writing is now familiar to me and she has a style all her own, providing a commentary of insightful detail alongside the main action – ensuring that characters are fully-fleshed and actions are visual.
If you like stalker sagas and dating hell mysteries, you'll love this fabulous five star read which I highly recommend.
Playing Nice by JP Delaney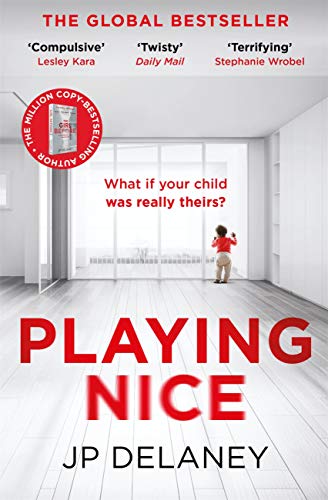 Blurb
Pete Riley answers the door one morning to a parent's worst nightmare. On his doorstep is Miles Lambert, who breaks the devastating news that Pete's two-year-old, Theo, isn't Pete's real son – their babies got mixed up at birth.
The two families – Pete, his partner Maddie, and Miles and his wife Lucy – agree that, rather than swap the boys back, they'll try to find a more flexible way to share their children's lives. But a plan to sue the hospital triggers an investigation that unearths disturbing questions about just what happened the day the babies were switched.
And when Theo is thrown out of nursery for hitting other children, Maddie and Pete have to ask themselves: how far do they want this arrangement to go? What secrets lie hidden behind the Lamberts' smart front door? How much can they trust the real parents of their child – or even each other?
My Review : 5 stars
With almost ten thousand Amazon ratings and a permanent residency in the Kindle Top 100 since its launch, I had to read JP Delaney's latest thriller, my first by this author.
The premise and plot are original, the pace is spot on for what is essentially a family drama with a creepy psychological edge, and the characters are believable –­­ although true to form, I preferred the female protagonists to the male as I found woke stay-at-home-Dad Pete Riley mildly irritating.
I also found the child at the centre of this custody battle slightly repellent, but to be fair, there was a reason for this which formed part of the plot. As a childfree woman, I also liked the book's lack of sentimentality (always a turnoff for this cynic). All in all, Playing Nice is a cracking twisty thriller that kept me entertained throughout.