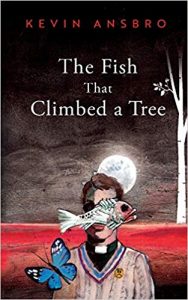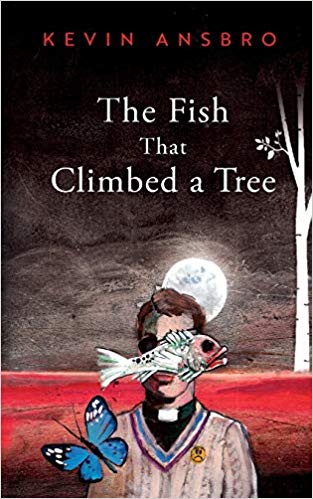 Where to start with the literary feast that is The Fish That Climbed a Tree? I was attracted by the reviews but wasn't sure the book would be for me as (generally) I like to keep it real. BUT – and here's the clever part – this fantastical tale of an orphan's journey from young boy to adulthood was utterly believable and the characters became so real to me that I was wholly invested in them and their respective plights from the get-go.
Ansbro sets out his stall immediately, opening on the grisly murder of the Reverend Ulysses Drummond and his fragrant, butterfly-magnet wife, Florence. The pair are killed by grotesque assassins who are the stuff of nightmares and I found them utterly terrifying; yet somehow, the author manages to inject wit and humour into even the bleakest of scenes.
The couple are survived by their ten-year-old son, Henry, an awkward and high-functioning child, who gets shipped off to his grandparents' and sent away to school. We then chart Henry's progress as he encounters a cast of beguiling characters. Look out for benign Bertie, the loathsome Sebastian (whom readers will love to hate), the lubricious Amber and doting father-figure/landlord, Mr O'Connor.
Throughout, the violence is shocking but never gratuitous, driving the plot at a cracking pace and ensuring that the reader is rooting for Henry every step of the way. The Magical Realism aspect arises from Ulysses and his celestial friends (see entertaining cameos by Voltaire and Darwin) as he follows his son's journey, unable to rest or play with the other angels until his son is safe.
All the characters fascinate, but it was Henry who stole my heart and I found the ending very satisfying. I loved the author's narrative style; rich in metaphors and similes – and the way in which he wove together the astral plane of the spirit world with the earthly land of the living.
To summarise, Kevin Ansbro's clever and multi layered third novel is a joy from first to last page. The Fish That Climbed a Tree may have been my first foray into Magical Realism, but I doubt it will be my last.
Out now on Amazon in Paperback & Kindle:  https://www.amazon.co.uk/Fish-That-Climbed-Tree/dp/1912014327
http://www.beverleyharvey.co.uk/wp-content/uploads/2019/05/51WBKyoHjvL._SX311_BO1204203200_1.jpg
499
313
Beverley Harvey
http://www.beverleyharvey.co.uk/wp-content/uploads/2020/09/white_logo.jpg
Beverley Harvey
2019-05-09 10:43:13
2020-09-03 06:58:14
Book Review: The Fish That Climbed A Tree by Kevin Ansbro