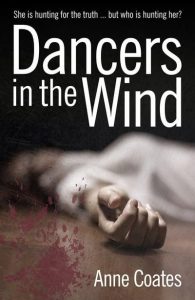 Dancers in the Wind is a classic thriller in the mould of Lynda La Plante's Prime Suspect. It could be that I was reminded of the series because it is set in London's King's Cross in the early nineties – an era when this part of London was a world away from the chichi urban village it is today (and where a one bedroom flat will set you back a cool £Million).
Action packed from the first page, the book opens on the grisly discovery of a murdered prostitute – the latest in a series of vicious killings in the area.  Detective Inspector Tom Jordan heads up the investigation, but the story centres on Hannah Weybridge, a Freelance journalist and single mother who is commissioned by a national newspaper to write an investigative feature on the red light district in Kings Cross.
As a critical part of her research, Hannah interviews 'Princess' a young prostitute. Days later, Princess (real name Caroline) turns up at Hannah's home, beaten within an inch of her life and demanding sanctuary. Hannah soon finds herself sucked into a sleazy underworld that hitherto she could never have imagined.  After discovering more than a whiff of police ineptitude and media cover-up, Hannah sets out to uncover the truth about the murdered prostitutes.
The gap between Hannah's modest but genteel life and the murky world she is now entangled in is powerful stuff and the threat to Hannah and her baby daughter is palpable. We sense her frustration and dilemma throughout as she is torn between walking away from the grime – and gaining justice for Caroline and her co-sex workers.
Another layer to this gripping read is the sexual tension between Hannah and Tom Jordan, a complex character who is seemingly charismatic and compassionate; whether or not he can be trusted had me guessing until the final page.
Anne Coates captures the era and the location perfectly – and you'll find yourself rooting for Hannah, whose very ordinariness is the key to her appeal.
http://www.beverleyharvey.co.uk/wp-content/uploads/2017/02/Dancers-in-the-Wind.jpg
614
400
Beverley Harvey
http://www.beverleyharvey.co.uk/wp-content/uploads/2020/09/white_logo.jpg
Beverley Harvey
2017-02-15 12:02:42
2020-09-03 08:08:17
Book Review: Dancers in the Wind by Anne Coates